The G7 group of nations has agreed a "roadmap" for future engagement with the Taliban and will insist on the "safe passage" of people who want to leave Afghanistan beyond 31 August, Boris Johnson has said.
The prime minister was speaking after a virtual G7 summit about the evacuation of people from Afghanistan.
Mr Johnson was expected to use the talks to press US President Joe Biden to extend the deadline for pulling out his remaining troops from Afghanistan to allow evacuations to continue.
But US media reports say the president has decided not to extend the deadline.
Speaking to Sky News earlier, Defence Secretary Ben Wallace conceded that such a move was "unlikely".
The Taliban has told Sky News that the end of the month was a "red line" and there would be "consequences" if that was extended.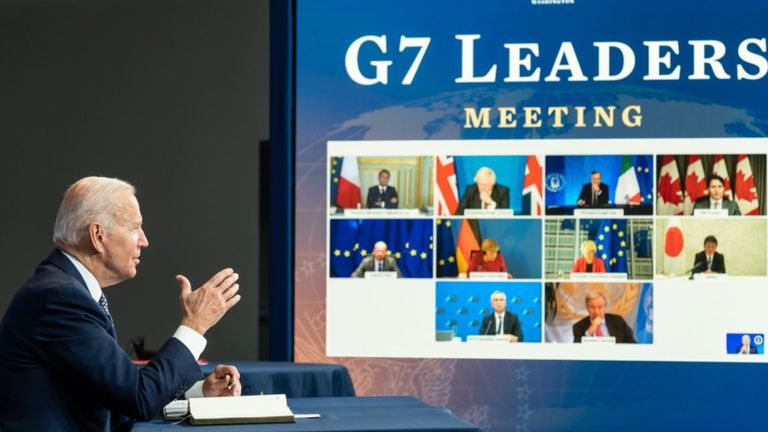 This was reiterated by Taliban spokesman Zabihullah Mujahid on Tuesday, who said the US must complete evacuations by 31 August with "no extensions".
"31 August is the time given and after that it's something that is against the agreement," he told a news conference.
"All people should be removed prior to that date.
"After that we do not allow them, it will not be allowed in our country, we will take a different stance."
Since 14 August, a day after the Taliban took Kabul, 8,600 British nationals and Afghans who worked for the British over the past 20 years, as well as their families, have been flown out of the capital by British forces.
The defence secretary said there are enough aircraft and there is a steady flow of them coming into the airport, but the challenge is getting people there in the first place as they have to get through Taliban checkpoints between the city and the airport.
He added that there are about 3,000 people outside the British and US control gates and nearly 15,000 people in total outside the airport.
The Taliban swept to power earlier this month as the Afghan government collapsed amid the continuing withdrawal of the remaining Western military forces from the country.
The developments come almost 20 years after the invasion of Afghanistan was launched in the wake of the 9/11 attacks to oust the Taliban and prevent it from harbouring al Qaeda, the group behind the 2001 terror attack on the US.